بسم الله الرحمن الرحيم
Sayyid Abul Ala Maududi - Tafhim al-Qur'an - The Meaning of the Qur'an
---
60. Surah Al Mumtahina (The Woman Under Questioning)
Name
In verse 10 of this Surah it has been enjoined that the women who emigrate to dar al-Islam (the Islamic State) and claim to be Muslims, should be examined hence the title Al-Mumtahinah. The word is pronounced both as mumtahinah and as mumtahanah, the meaning according to the first pronunciation being "the Surah which examines", and according to the second, "the woman who is examined."
Period of Revelation
The Surah deals with two incidents, the time of the occurrence of which is well known historically. The first relates to Hadrat Hatib bin Abz Balta'a, who, a little before the conquest of Makkah, had sent a secret letter to the Quraish chiefs informing them of the Holy Prophet's intention to attack them. The second relates to the Muslim women, who had started emigrating from Makkah to Madinah, after the conclusion of the Truce of Hudaibiyah, and the problem arose whether they also were to be returned to the disbelievers, like the Muslim men, according to the conditions of the Truce. The mention of these two things absolutely determines that this Surah came down during the interval between the Truce of Hudaibiyah and the Conquest of Makkah. Besides, there is a third thing also that has been mentioned at the end of the Surah to the effect; What should the Holy Prophet (upon whom be Allah's peace) make the women to pledge when they come to take the oath of allegiance before him as believers?About this part also the guess is that this too was sent down some time before the conquest of Makkah, for after this conquest a large number of the Quraish women, like their men, were going to enter Islam simultaneously and had to be administered the oath of allegiance collectively.
Theme and Topics
This Surah has three parts;
The first part consists of vv. 1-9, and the concluding verse 13 also relates to it. In this strong exception has been taken to the act of Hadrat Hatib bin Abi Balta'a in that he had tried to inform the enemy of a very important war secret of the Holy Prophet (upon whom be Allah's peace) only for the sake of safe guarding his family. This would have caused great bloodshed at the conquest of Makkah had it not been made ineffective in time. It would have cost the Muslims many precious lives; many of the Quraish would have been killed, who were to render great services to Islam afterward; the gains which were to accrue from conquering Makkah peacefully would have been lost, and all these serious losses would have resulted only because one of the Muslims had wanted to safeguard his family from the dangers of war. Administering a severe warning at this blunder Allah has taught the believers the lesson that no believer should, under any circumstances and for any motive, have relations of love and friendship with the disbelievers, who are actively hostile to Islam, and a believer should refrain from everything which might be helpful to them in the conflict between Islam and disbelief. However, there is no harm in dealing kindly and justly with those disbelievers, who may not be practically engaged in hostile activities against Islam and persecution of the Muslims.
The second part consists of vv. 10-11. In this a social problem has been settled, which was agitating the minds at that time. There were many Muslim women in Makkah, whose husbands were pagans, but they were emigrating and reaching Madinah somehow. Likewise, there were many Muslim men in Madinah, whose wives were pagans and had been left behind in Makkah. The question arose whether the marriage bond between them continued to be valid or not. Allah settled this problem for ever, saying that the pagan husband is not lawful for the Muslim women, nor the pagan wife lawful for the Muslim husband. This decision leads to very important legal consequences, which we shall explain in our notes below.
The third section consists of verse 12, in which the Holy Prophet (upon whom be Allah's peace) has been instructed to ask the women who accept Islam to pledge that they would refrain from the major evils that were prevalent among the womenfolk of the pre-Islamic Arab society, and to promise that they would henceforth follow the ways of goodness which the Messenger of Allah may enjoin.

In the name of Allah, the Compassionate, the Merciful.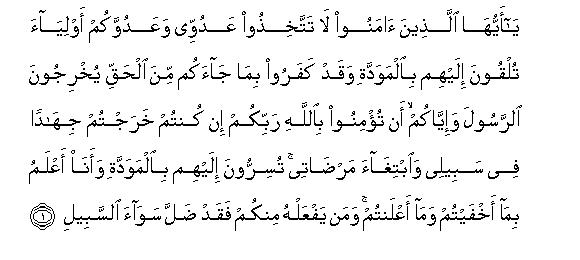 [1-3] O you who have believed, if you have come out (from your homes and emigrated) in order to fight in My way and to seek My goodwill, then do not make friends with My enemies and your enemies. You show them friendship even though they have refused to believe in the Truth that has come to you, while they drive out the Messenger and you away only because you believe in Allah, your Lord. You send them friendly messages secretly, whereas I know full well whatever you do secretly and whatever you do openly. Whoever from among you does so, has indeed gone astray from the right way. If these people overcome you, they will be enemies to you and will use their hands and their tongues to harm you. They wish that you should turn unbelievers somehow. On the Day of Resurrection neither will your relationships avail you anything nor your children. Allah on that Day shall cause separation between you, and He is Seer of whatever you do.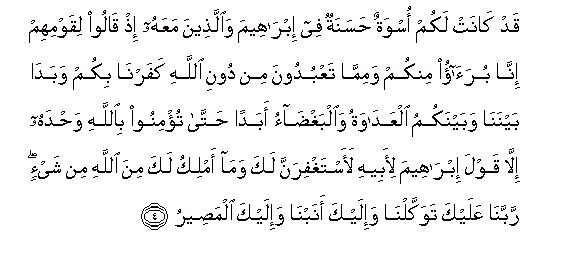 [4-5] There is indeed an excellent example for you in Abraham and his Companions when they said to their people plainly: "We have nothing to do with you and your gods whom you worship instead of Allah. We renounce you and there has arisen between us and you enmity and hatred for ever, until you believe in Allah, the One." But Abraham's saying this to his father (is excepted); "I shall certainly pray for your forgiveness, though I have no power to get anything for you from Allah." (And the prayer of Abraham and his companions was: ) "O our Lord, in you alone have we put our trust and to You alone have we turned and to You we shall return finally. O our Lord: make us not a test and trial for those who have disbelieved, and O our Lord, pardon us our errors. You indeed are the All-Mighty, the All-Wise."

[6] There is certainly in the conduct of those people an excellent example for you and for every such person who is hopeful of Allah and the last Day. But whoever turns away from this (should know that) Allah is All-Sufficient and Self-Praiseworthy.

[7] It may well be that Allah will place love between you and those whose enmity you have now earned. Allah is All-Powerful, and He is All-Forgiving, All-Merciful.

[8-9] Allah does not forbid you to treat kindly and act equitably towards those who have neither fought you in the matter of religion nor driven you out of your homes. Indeed Allah loves the just. He only forbids you to take for friends those who fought you in the matter of religion, and drove you out of your homes, and cooperated with others in your expulsion. Those who take them for friends are indeed the wrongdoers.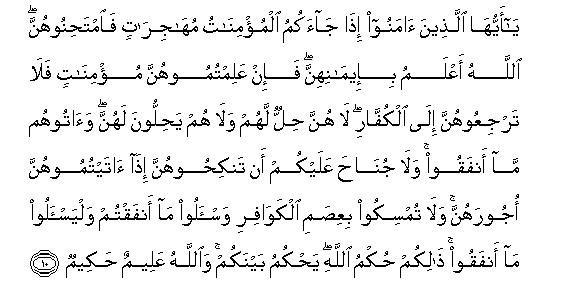 [10-11] O you who have believed, when the believing women come to you as emigrants, examine and test (their faith), although Allah only knows best the truth of their faith. Then, when you find them to be true believers, do not return them to the disbelievers. Neither are they lawful for the disbelievers nor are the disbelievers lawful for them. Return to their disbelieving husbands the dowers that they had given them; and there is no blame on you if you marry them when you have paid them their dowers. And you also should not hold back unbelieving women in marriage. Ask for the dowers that you had given to your unbelieving wives, and let the disbelievers ask for the dowers that they had given to their Muslim wives. This is Allah's command: He judges between you, and He is All-Knowing, All-Wise. And if you do not get back from the disbelievers a part of the dower of your disbelieving wives, and then your turn comes, pay to the people whose wives have been left on the other side an amount equivalent to the dowers given by them. And fear that Allah in Whom you have believed.

[12] O Prophet, when the believing women come to you to take the oath of allegiance, and pledge that they would neither associate anything with Allah, nor steal nor commit adultery nor child murder, nor bring a calumny forged between their own hands and feet, nor disobey you in what is good, accept their allegiance and pray for their forgiveness. Surely Allah is All-Forgiving! All Merciful.

[13] O you who have believed, do not make friends with those whom Allah has condemned, who have despaired of the Hereafter just as the disbelievers, who are lying in the graves, have despaired.